So you have spent years at your University, College or High School and you have finally reached Graduation day… what should you wear? First of all remember these are photos you will look at forever so you want your outfit to be en pointe. Second don't think that it doesn't matter what you wear under your gown! The regalia gowns – while awesome don't cover you completely and you probably don't want to be mistaken for a wizard anyway so the full caped look should be avoided at all costs.
So what should you wear? With The Volte you can now afford to wear the sort of high-end designer dresses you could previously only dream of in your life as a poor student.
Some things to keep in mind when going to rent your dream designer dress from The Volte. First of all consider the colour of the regalia – most of the time it will be black but your school or university may have embraced the new trend of coloured gowns. Although I think Coco Chanel would have something to say about it, there is little you can do about it. Keep in mind when you do your hair that you have that sexy hat to wear so anything on the crown of your head is a no-go.
White is always a safe choice as it will go with anything and can lift an all black look so you stand out from the all black crowd. One of The Volte's most popular looks for graduation is some of the white Self Portrait range which hit the demure yet look at me vibe that all new graduates want. Bright colours will also offset the 'blackness' of the robes. If you do decide to go black consider going for a mini or knee length as that will help to break up the look. Whatever you do – remember smart graduates always rent never buy their graduation fashion. Oh and remember to wear some shoes you can walk in – whether that is a 6 inch heel or a flat. You don't want to do a Jennifer Lawrence and fall as you walk across the stage with all eyes upon you!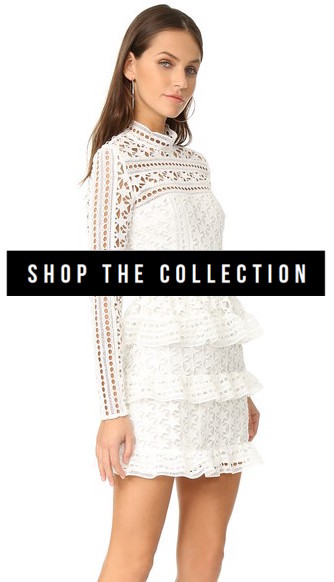 ---